The Head-Worn Boom Subminiature Lavaliere
A sub-minature microphone worn on a flesh-colored boom arm.  Like backwards eyeglasses except behind the head or over the ear, holding a small microphone on cheek.  Mic cable goes behind the neck and down the back.
(The Photo of my Head-Worn Boom Subminature Lavaliere shown here, is my original hand-bent coat hanger with cable and element shrink-tubed on.  The shrink tubing can be colored to match facial color.  The wire is hidden by the neck and back.  This mic might of had its element changed.)
NOW IN USE world-wide, made by many manufacturers, originally invented for the show SENATOR JOE (1988) which was Directed by Tom O'Horgan.
Sonature ® 
a new type of surround-sound system.  
Sonature ® is the only surround sound system where you do not have to sit in the center to hear balanced surround sound.
It is the only system that you do not have to remix the original, to achieve surround sound. Particularly applicable for use in cars, and theaters, where it may not be possible to sit in the exact center.  Samples are available.
AVAILABLE for surround conversion without remix.  Available for recording or mixing.  A few Artists have recorded with Sonature or had their recording converted.
MULTI-PRIORITIZING HEARING DEVICE
A new type of hearing device (AID) with brains.  
It compensates for what the hearing impaired lose, when they lose their hearing.  It figures out what you would want to hear, and only amplifies what you would want to hear. It prioritizes sound and you only hear the most important thing. (ie The smoke detector alarm is more important than the TV)
Below is a sample of he Hearing device actually working.  Notice that listener will only one sound at a time.  They are listening to the TV when my two daughters walk into the room talking.  The Device automatically overrides the TV sound and allows you to hear ONLY the conversation.
CURRENTLY IN NEGOTIATIONS
A stand alone device that only hears the person in front of you, or where-ever you aim it, or, all around a conference table or bar table.  It too, has the electronic discretion of selectable hearing. Currently have 4x scale prototype.
SOUND UNSEEN 
®
INVISIBLE MICROPHONE
(so small it can be hidden easily with a band-aid dot)
A new microphone which is so small it is virtually invisible.  It includes a mic, preamp, transmitter, and rechargeable battery all in one very small space, (1mm x 2mm x 2mm). It has law enforcement and live entertainment applications.  (I have built them into prosthetic skin)
MUSIC WATERMARK COPYRIGHT PROTECTION SYSTEM
It puts the money back into the hands of those who made the music, while preventing illegal copying, yet still uses the Internet to present that music to the public
ELECTRO-MAGNETIC COLLECTION DEVICE
Collects and stores electromagnetic radiation at any frequency.
WATER-POWERED INTERNAL COMBUSTION ENGINE
An engine that literally runs on water.  It includes a new way to break water down into its burnable parts that is more efficient than any previous methods.  It has applications for aircraft, rocket motors, boats, submarines Interstellar propulsion systems, and third world electrical generators. Have a video of it working.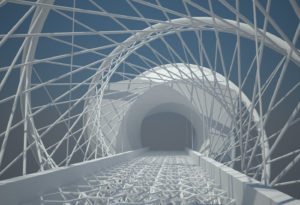 A new type of structure for a bridge or an up-in-the-air highway.  This structure requires no verticals or pylons, uses less steel, and is stronger.  The EWO Bridge is both beautiful and practical.  It generates more power than it consumes, costs less to build, and an audio device turns the bridge into, not just a means from on place to another, but also into an event and thus an icon, in whatever locale it is placed.   I was asked to become part of the small team of designers led by Hawon Lee who invented this triple helix, DNA-like concept.
Bernard has many projects in various stages of development.
Some of the inventions are already under patent, and are ready for funding. If you are a venture capitalist, or know of someone, or a company or group, who may be interested in one or more of these start-ups, please contact Bernard directly here.  Thank you.
More to come – please stay tuned…